Well, after years of loving it, but never really writing about it, I've decided to dedicate a section of the blog to my childhood love... pro wrestling. I'll try to get some content up every week about Raw, Smackdown, New Japan Pro Wrestling or whatever I can get on TNA (since those fuckers don't show on my cable!)
So this week I'm gonna keep it simple and give you a little perspective on why I love this. Before you go off on a tangent wanting to tell me how wrestling is fake, how they don't really get hurt, etc. let me just clarify something... it's definitely scripted, it's not fake and a real wrestling fan gets offended when you fuckers who are willing to sit and watch people run back and forth chasing a football up and down the field want to debate "logic" in entertainment. I think most reasonable fans know it's scripted, but we respect the attempt at the slight of hand to hide the razor and understand sometimes they bleed the hard way (meaning it wasn't supposed to happen, but someone didn't get their hands up fast enough when running into a pole or getting hit with a chair). Here's an example of "the hard way"...
This is why it's offensive when you tell a man who is putting his body and sometimes life on the line that what he does is "fake" that it's insulting. So it's definitely scripted and entertainment, but you've gotta be an athlete on some level to do what they do, which is why I love it so much... plus there's nothing better than heckling small children when Brock Lesnar takes their hero to Suplex City! But I grew up a fan from probably the age of five when I first saw NWA/WCW on TBS at 6:05PM on Saturday's... man that was the best thing in the world to watch guys flying around like superheros and for a kid who loved comic books and action figures wrestling fit right into all of that!


So as a grew up I tried to run away from it because like most young kids do, I started to follow behind my friends and be more concerned about being made fun of than being myself and letting that be cool enough. So I took my love for Z-Man, Arn Anderson, the Ultimate Warrior and others and tried to put it on a shelf and hide it away... only watching it when I knew I was around my friends who wouldn't judge me for it. Eventually, as wrestling always has, it made a comeback to the young adult audience in the late 90s and I was able to enjoy the NWO and the Attitude Era publicly without any ridicule! It felt good to see the wrestling jargon being used in pop culture and the Rock, Stone Cold, Booker T, and others being able to reach massive audiences!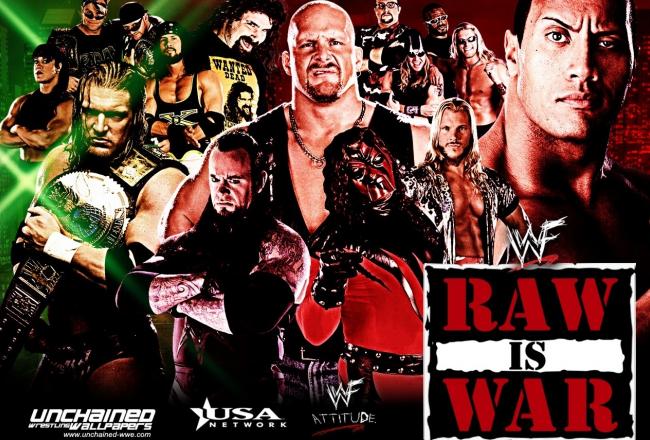 I went away from wrestling for a few years while in college because... well... I was fucking a lot of women, but as my life slowed down, I fell in love, started staying home a bit more my childhood passion for it came back, so even when it isn't always at its best, I try to sit down and watch it as much as I can and I decided 4yrs ago that I was going to start going to Wrestlemania on a yearly basis and since Wrestlemania 28 that's exactly what I've done. Miami, New York, New Orleans, and San Jose I've been to them all! What I can tell you the experience has taught me is that you're only as old as you allow society to dictate to you!. In March I got to sit next to 70+ thousand people, most of which who were adults who said "FUCK YOU" when it came to allowing others to tell them that enjoying this is childish and that's really a cool thing to be apart of. And at the end of the day, isn't life about doing what makes you happy? So sure, this shit is scripted, but so is most of TV, but make no mistake when these guys get hurt and the ref throws up the "X" shit has gotten very real...
Yes, I went to Mania in full on Sting facepaint
#committed #thanksSteph
So don't be afraid to jump out and take risk! Stop letting society tell you when you're supposed to put away childish things! Learn to laugh at yourself! Love what you want to love and when you love it BE PASSIONATE ABOUT IT! Hold it with both hands and never let it go because the moment you allow society to take what you enjoy from you, you start living for them and not for yourself.
So my name is Brandon Kolby Jacobs and damnit I love pro wrestling and if you don't... well....
And yall can catch me in Dallas, TX next year (Lord willing) to pick up another one of these...